Ver mas en Poiesis Magazine
http://www.poiesismag.com/havi-schanz
Havi Schanz - @HaviArt el artista argentino que pinto al polémico retrato de Donald Trump, afirma que en 2011 le desaparecieron 13 obras de una galeria de arte de Palermo Soho en Buenos Aires luego de su exhibición.
La respuesta de la galeria fue "Agujero Negro", entre los cuadros estaba un retrato de Cristina Kirchner, tres de Eva Perón y varias de Marilyn Monroe con un valor de XXXX dólares.
La obra Diálogo, con las imágenes de Eva Perón y Cristina Kirchner iban a ser donadas.
Ahora que su arte es reconocido internacionalmente quiere encontrar donde fueron a parar.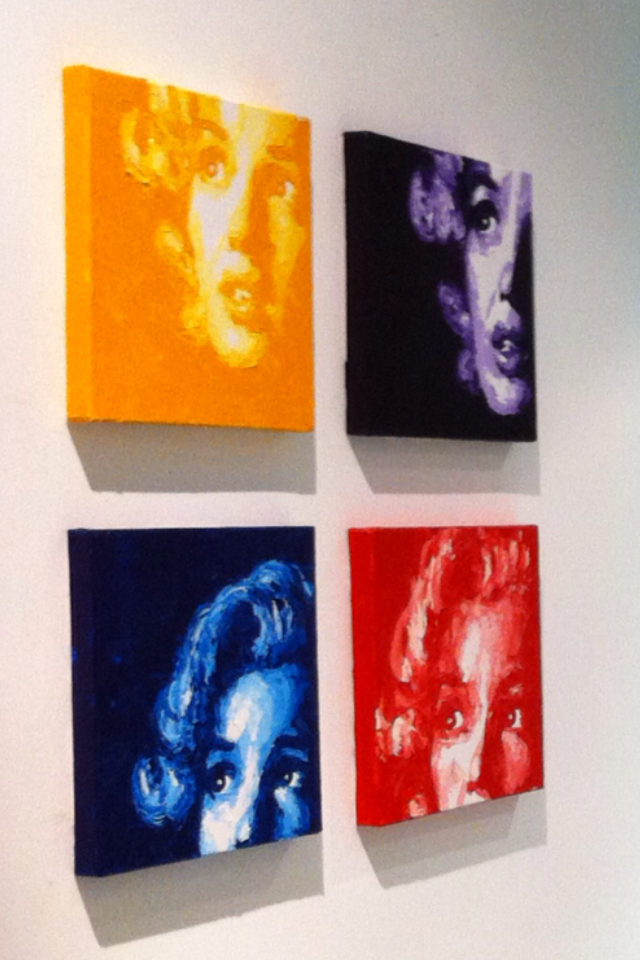 Havi Schanz
by James Cubby for The City DeLuxe
There was a time when architects were artists and vice versa. Artists like Michelangelo were painters and architects. Today, for the most part, architects are architects and artists are artists except in the case of Miami Beach-based artist Havi Schanz.
The Argentina-born artist began a career as an architect earning positions as Commissioner of Architecture in Sauce Viejo City Hall and Professor at the Universidad Nacional del Litoral in Argentina. When the economy brought a halt to building,Havi turned to painting.With little money for canvas,Havi started painting on blueprints, a unique choice that he continues today. His paintings of faces, particularly of famous icons like Marilyn Monroe, Evita, James Dean, and Elizabeth Taylor, are the ones that really launched Havi's art career."Many artists have tried to portray Hollywood's glamour through
"Miami is like a crossroads, a big melting pot of different cultures and races that make the city rich in diversity and ideas.
'movie stars' that launched the beginning of the POP movement, Havi Schanz, adds to this expression with a 'New Romantic' make-up and distinguishes also the interpretation, expression and depth with each glance," says curator Ignacio Irazoqui. Havi's work has been widely exhibited in several solo and group exhibitions in Argentina, Venezuela, Colombia, United Kingdom, Italy, France, Spain, Australia, Mexico and the United States. Le City deluxe visited Havi in his Miami Beach studio to chat about art and watch him work on pieces for his latest exhibition.
Describe your art.
My architectural background is clearly embedded in my work. My vision of art is reflected in a poetic way as my brushstrokes capture people's feelings and emotions. When I paint somebody, I not only try to portray their face as accurate as possible, but also I try to convey additional emotions from their inner selves like happiness,pain,hope,innocence,strength, insecurity, fear, and anything that I believe may describe the individuals at the time of production. From the beginning of the Pop art movement, many artists have tried to portray Hollywood's glamour by painting iconic figures. I have been working to introduce a new interpretation and romanticism to those icons through an expressive and depth view.
Your subjects are often powerful icons like Marilyn Monroe, James Dean, and Elizabeth Taylor. How did you choose them as subjects?
My current production is focused on powerful icons because they are not only beautiful faces, but also very rich in emotions. Even though their beauty is what first attracts the observer, it is the energy of their souls, which subsists in a more subtle observation what lays behind the first glance. I believe this dichotomy creates an interesting puzzle that catches the interest of a wider audience. For example, when I paint Marilyn, the final product makes people think not only of a sex symbol who influenced people all over the world, but also of somebody who had a troubled life with a tragic end. The power of this kind of portrait also resides in that it can trigger dormant feelings in the observers.
Have you created portraits for anyone powerful (business, politics or entertainment)?
Yes, I painted Enrique Peña Nieto (President of Mexico),Cristina Kirchner (President of Argentina), Pamela Anderson, and Samuel Champion, among others. In addition, I have done portraits requested by powerful Latin America people whose names I cannot mention for privacy reasons.
Who are some of the artists that have inspired you to create art?
Many artists have influenced me. In particular, I admire Vincent Van Gogh for the strength of his brushstrokes, Edvard Munch for the psychological dimensions of his paintings, Andy Warhol for his ability to explore the relationship between art and
communications, and Damien Hirsch for his prestige and audacity to build an art empire.
What is the most powerful piece of art that you have created and why?
It is difficult to select only one piece of art. I believe that my recent series of famous icons have been quite powerful in terms of the overwhelming positive feedback I have received from some of the more than 60 thousand followers I have on Facebook. They love not only the beauty of the paints, but above all, the emotions
hey generate in them. If my art can help people in any way, then I would feel I have accomplished my mission.
How did you come to live in Miami and do you think it is a good city for an artist?
Initially, I came to Miami in 2005 for a 15 days vacation and I fell in love with the beauty of the city, the water, and the
energy of the people. I believe Miami is an ideal place for an artist because [it] is the main gateway to Latin America and has strong connections with other main art centers...
How have you seen the Miami art scene grow since your arrival?
Miami is like a crossroads, a big melting pot of different cultures and races that make the city rich in diversity and ideas. I believe it is a great city to work as an artist because it is full of opportunities and I think the potential for growth is amazing.
I would like to be remembered as an artist who painted people's souls and as a person who contributed to make a better society for everybody.
How would you like to be remembered?
I would like to be remembered as an artist who painted people's souls and as a person who contributed to make a better society for everybody. I also hope that my art serves as source of inspiration to other artists.